Home
Campaign for Freedom of Expression (CAFE)
Campaign for Freedom of Expression (CAFE)
The Freedom Campaign aims at promoting civil society voices for freedom of association and expression. The organization participates in the different e-campaigns launched by different international organizations and networks such as CIVICUS: World Alliance for Citizen Participation, Avaz.Org World in Action, World Democracy and Youth Democracy Campaigns, and so on.
---
Global Day of Citizen Action (GDCA) 2015: CIVICUS-Civic Bangladesh Conference on "Freedom of Expression: The Right to be Heard"
Civic Bangladesh organized a conference titled "Freedom of Expression: The Right to be Heard" in the round-table conference room of Dhaka Reporters' Unity (DRU) on the occasion of the Global Day of Citizen Action (GDCA) on 16 May 2015 in collaboration with CIVICUS: World Alliance for Citizen Participation.
Keynoted and also moderated by Mr. Bayezid Dawla, Executive Director, Civic Bangladesh; the conference was addressed by Mr. MA Aziz, Secretary-General, Bangladesh Federal Union of Journalists (BFUJ); and Mr. Sohrab Hasan, Joint Editor, The Prothom Alo, as the guest speakers.
The conference was also addressed by civil society leaders Professor Shafiullah Sarker, Dr. Biswajit Roy Chowdhury, Mushfiqa Naznin, Alamgir Chowdhury, Shahida Akhter, Jannat Fatema, and Ashraf Sarkar, among others who attended. The conference was also attended by dignity and rights activists, media activists and professionals, development workers, teachers, students, researchers, RMG employees and federation leaders, trade union leaders, and political leaders and activists.
Attendees of the conference observed that everyone has the right to speak out and be heard. The birthright to exercise the freedom of expression cannot be ignored, undermined and violated by any means. However, the conference noted that the majority people of Bangladesh are not unable to express their opinions. If they express the more powerful people ignore this. The problem is all pervasive. In this backdrop, the participants have underlined the need for creating a culture of free expression, flexibility, and tolerance which will help develop freedom as an institution and democracy as stronger and more effective.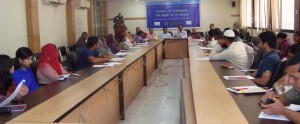 Civic Media Network (CIMEN) General Secretary, and organizer of the Campaign for Freedom of Expression (CAFÉ) Mr. Swapan Kumer Kundu who is also Chief Sub-Editor of The daily Alokito Bangladesh, welcomed the guests and participants to the conference while Mr. Harunur Rashid, CAFÉ Co-organizer, and CLNB Chairman, gratefully acknowledged the participants' valuable contribution to the discussion. The conference concluded with a call for strengthening the civic movement for everyone to speak out, organize and assemble freely.
The event mobilized a good number of journalists from different print and electronic media including Natunsomoy TV, Ekushey TV, SA TV, thereport24.com, Bornoa Impression, The daily Agnishikha, The Economic Daily Industry, Ruposhi Bangla News, bhorerbangladesh.com, The Daily Inqilab, times24.net, The daily Bhorer Pata, The Daily Alorjagat, The daily Good Morning, The daily Prothom Alo.