Home
Climate Change Adaptation and Disaster Risk Reduction (CCA&DRR)
Climate Change Adaptation and Disaster Risk Reduction (CCA&DRR)
The CCA&DRR programme builds adaptive knowledge and coping capacity among the victims of disaster and climate change. The program supports enhancing emergency response capacity and developing alternative livelihood strategies to ensure food security in communities affected by climate change and environmental disorder. The program also works across the levels to assist in creating renewable energy, protecting eco-diversity, reducing pressure on nature reserves, and strengthening sustainable natural resources management at the community and institutional levels.
To develop adaptive knowledge and risk reduction skills among the fishing and farming communities in the flood and drought-prone areas of the country's largest floodplain marshy land known as "Chalan Beel", the organization has undertaken two self-financed  projects under its CCARR Programme—"Climate Change Resilient Fish Culture Project (CCRFCP)", and "Climate Change Resilient Agriculture Project (CCRAP)" both based in Bhangura Upazila of Pabna district, one of the three Chalan Beel districts (the other two being Sirajganj and Natore districts) of the country.
The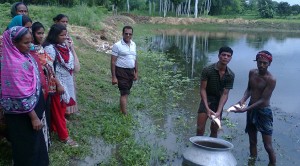 project areas are affected by the climate change impacts and exposed to seasonal variance, distinctions of temperature between days and nights, extreme as well as low rainfall, water logging, siltation and dying of rivers, sharp decline in groundwater level, and low retention capacity of the water reservoirs such as tanks, ponds, canals and rivers.
The Climate Change Resilient Fish Culture Project (CCRFCP) has been undertaken in an area where the surface water sources are declining and groundwater level falling. The river Baral which was a major source of surface water used in agricultural and fish production in the entire area in the 70s and 80s is about to die. The lack of water-flow in the Baral has caused extinction to the local fishing communities, and compelled them to change their livelihood strategies and options. The farmers have given up cultivating fish in their ponds as they dry up in the summer. These changes appear to have hit hard the lives and livelihoods of the people, especially the low-income groups of people living in the areas. However, Civic Bangladesh has adopted the option of fish culture using the waist-deep rainwater filling the ponds.