Home
Health and Nutrition Development (HAND)
Health and Nutrition Development (HAND)
The program seeks to promote and protect the right to physical and mental health in the excluded and marginalized communities through civic empowerment, mobilization and advocacy. It provides health education for the vulnerable children, adolescent girls, young women and elderly people of low-income families, persons with disabilities, ethnic minorities, and the victims of natural disasters, mediates demand, and facilitates access to public healthcare services to activate livelihoods and improve lives. It also creates menstrual hygiene and reproductive health awareness among the adolescent girls and women to help them maintain their physical and mental well-being. Besides, the program seeks to support and empower people with physical, mental and intellectual disabilities.
Promoting Washable and Reusable Hygiene Kits for Disadvantaged Women and Girls in Bangladesh
Civic Bangladesh organized a seminar on "Washable and Reusable Feminine Hygiene Kits for Girls in Bangladesh" on 14 March 2015 in collaboration with Days for Girls Emu Plains Chapter, Aussi-Bangla Smile, and Rotary Club of Nepean, Australia, and Rotary Club of Dhaka. Held in the BBS conference room at Agargaon, Dhaka; the seminar was keynoted by Ms. Barbara Mitchell, Director, Days for Girls; and moderated by Mr. Bayezid Dawla, Executive Director, Civic Bangladesh, and General Secretary, Bangladesh Dignity Forum.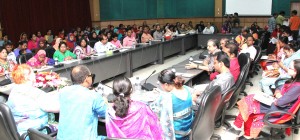 The seminar was attended by slum girls and women, readymade garment leaders and workers, development professionals, physicians, researchers, experts, activists, donor representatives, and journalists among others who attended. The seminar was addressed by participants representing Practical Action Bangladesh, Max Foundation, Impact Foundation, DNet, Voice of South Bengal, Civic Bangladesh, Interaction, DSK, NGO Forum, Marie Stopes Bangladesh, ICDDRB, PULSE Bangladesh, Grameen Bank took part in the discussion.
The top leaders of the RMG workers' associations who spoke on the occasion included President, Readymade Garment Workers' Federation; President, Garment Workers' Trade Union Federation; President, Bangladesh Garments Textile Workers Federation; President, Mehanati Garment Sramik Federation (MGSF); President, Bangladesh Sangrami Garments Sramik Federation (BSGSF); and President, Sanjukta Mahila Parishad (SMP). The seminar concluded with distribution of free hygiene kits among the slum girls and women as well as the participants from the national and international development organizations.

Civic Bangladesh also hosted a review meeting with the top leaders of the RMG workers on 15 March 2015 in its office to discuss the strategies of maximise the promotion and use of the low-cost and long-lasting hygiene kits among the slum girls and women, especially those serving the readymade factories in Bangladesh. The leaders expressed their all-out cooperation for any initiatives that could be taken by agencies or organizations in this regard.
Combating Malnutrition: Promoting Moringa Tree Culture in Rural Communities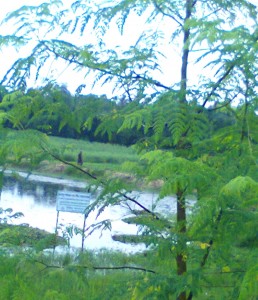 Malnutrition has been a critical health problem facing the community people with low income. So, the program also seeks to promote the plantation and transplantation of Moringa Tree (Moringa oelifera) in the communities as its "tiny leaves can save millions of lives" from chronic malnutrition. Read more in Civic Sajina Brochure-Bangla. The activity uses the adaptation technology suitable for the area, and is expected to develop demonstrable experiential knowledge and skills that may be disseminated and shared locally to encourage the farmers to adopt and scale up the technological option and improve their livelihoods.