Home
Civic Media Network (CIMEN)
Civic Media Network (CIMEN)
Civic Media Network (CIMEN) is an emerging network of local media professionals committed to building an informed, alert and vibrant civil society, promoting human rights and improving governance. Civic Bangladesh has created the network to empower the local media through training, research and campaigns to promote freedom of information and expression, help develop a culture of transparency and accountability, and curb public corruption.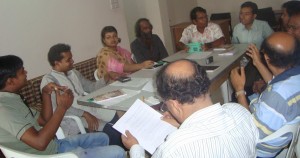 Goal
To establish the right to information and freedom of expression though promoting community journalism and mainstreaming the remote, excluded voices in Bangladesh
Strategic Engagements 
To build a grassroots network of community journalists and enhance their capacity;
To facilitate community empowerment through information transfer, and develop an information society;
To help incorporate the inaudible voices excluded from the democratic development process;
To facilitate the participation of community journalists in improving public governance by increasing transparency and curbing public corruption; and
To conduct research, monitor public commitments, and influence policy reforms.