Education
"Education is the most powerful weapon we can use to change the world."  ~ Nelson Mandela
The education program serves the disadvantaged communities, and collaborates with the private and public institutions to promote the right to Education for All, especially the excluded and vulnerable children and adolescents. Set on the principles of dignity, the program seeks to enable the students to learn gracefully and joyfully in a liberating environment, and maximize the benefits of education by reducing the economic, social and environmental costs, and minimizing the climate change threats.
Civic Bangladesh has set up a semi-English medium academy, SHIXMAYTON, in its Bhangura development area of Pabna district to educate the children from the low-income families that are unable to afford for the costly education imparted by the local private schools in the area.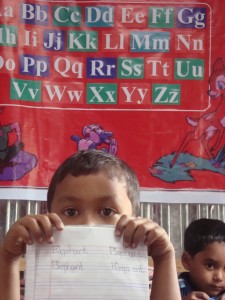 SHIXMAYTON was an academy which was originally built in 1956 by Mr. Abu Md. Yunus Ali (MLA 1954-'58), a  visionary philanthropic political leader from the area, to educate women from any countries of the world by using the model of Tagore's SHANTINIKETON .
Unfortunately, SHIXMAYTON was destroyed in  the late 1970s by a section of corrupt, influential people who intruded  into the academy premises and grabbed the expensive land of the institution.
However, in 2015 Civic Bangladesh took an initiative for rebuilding SHIXMAYTON to retain its journey for educating and enlightening the children.